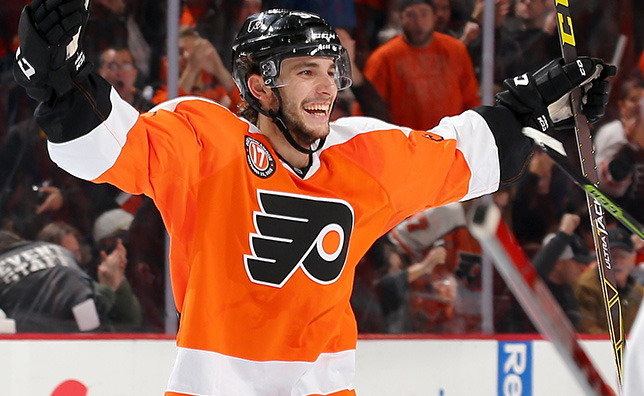 Shayne Gostisbehere was born on April 20th, 1993 in South Florida, where he grew up with his parents, Regis and Christine and his sister, Felicia. As the grandson of a Montréal native, Denis, Shayne quickly became infatuated with the sport of hockey. Since Felicia was a competitive figure skater, Shayne was always around the rink. With his grandfather by his side, Shayne slowly began climbing the ranks of what would one day become a professional hockey career. At a young age he began playing for the Florida Jr. Panthers, a travel hockey organization based out of Coral Springs, Florida. At the age of sixteen, he left home to play hockey at The South Kent School in Connecticut. From there, he was recruited to play for Union College, a division one hockey program located in Schenectady, New York. As a freshman at Union College, his teammates nicknamed him "Ghost". During his Junior year at Union, Shayne and his teammates made it to the Frozen Four where they became NCAA champions.
Shortly after, Shayne was offered an entry-level contract with the Philadelphia Flyers who drafted him in the 3rd round of the 2012 NHL Draft. Shayne accepted the opportunity to become a part of the Philadelphia Flyers organization and is considered to be the first player born and raised in Florida to make it to the National Hockey League. He spent his first season playing a handful of games in the American Hockey League, but unfortunately suffered a knee injury.
As he began his second season in the AHL, his play was stronger than ever. In October 2015, Shayne was called up by the Philadelphia Flyers to replace a temporarily injured defenseman. Unbeknownst to everyone, Shayne would remain playing for the Philadelphia Flyers and continues to do so today. In his rookie season, Shayne not only set franchise records, but NHL records as well. He also became a 2016 Calder Trophy finalist -- an award given to the top rookie in the NHL. At the end of 2016, Shayne was named Philadelphia's Professional Athlete of the Year by the Philadelphia Sports Writers Association.
Today, Shayne continues to be a defenseman in the Philadelphia Flyers organization. When not on the ice, you can find him enjoying Philadelphia with his girlfriend, Gina and their two French Bulldogs, Cooper and Pippa. In the off-season, Shayne enjoys playing golf and traveling to visit friends and family. Shayne has always been passionate about giving back to others and hopes to do so through the GhostBear Foundation.